In order to complete the enrolment process ALL STUDENTS are required to attend the Orientation Session which will be held on ;
ENGLISH COURSES – every MONDAY except public holiday

Monday : 1.00 pm

VET COURSES – THURSDAY a week before commencement

Thursday  : 2.00 pm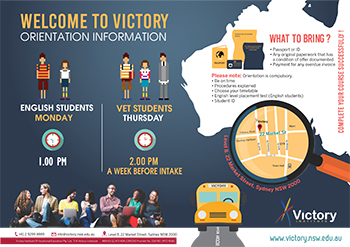 at the campus Level 8, 22 Market Street, Sydney NSW 2000. Orientation materials which are student handbook and Induction Handbook will be provided during orientation session.
Please note: Orientation is compulsory. Important information about policies & procedures will be provided outlining how to complete your course successfully.
You MUST bring the following with you to the enrolment session:
1. Your passport or any ID with your photo.
2. Any original paperwork that has a condition of offer documented.
3. Payment for any overdue invoice.
If you do not bring these items with you, your enrolment can not be completed.
If payments of your course tuition fee have not been made, they must be paid at the orientation session.
You will find your timetable posted on the notice board at the orientation. Please note that a change of timetable request will only be approved if facilities are available.
You must notify us of your residential address in Australia within 7 days of arriving in Australia.
We hope the orientation program will be a good opportunity for you to get to know your new Institute and that we will be able to help answer any question you may have as a new student.