Course Description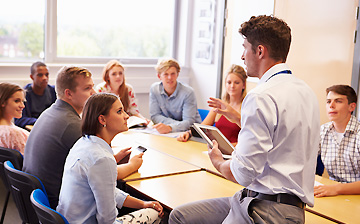 The English for Academic Purposes – EAP Course prepares students for all the possible language challenges that they will experience in an Australian Higher Education context. We thoroughly train students in the challenging skills of writing essays in English, giving presentations in English and understanding the expectations of an Australian college or university.
EAP students should typically be graduates of a university or college in their home country and must have at least completed secondary schooling before being accepted on the course.
Learners entering the EAP course are identified as intermediate level. The entry requirement for this qualification is an IELTS test result of at least 4.5 in any of the four macro-skills with an overall result of 5 or equivalent.
Potential students can also take the Victory Institute entry test to determine which EAP level they should commence. Our comprehensive placement test ensures that students enroll for a long enough duration in the EAP course to develop their English language proficiency to a sufficient standard of excellence to guarantee their continuing onto higher education. Completion of the EAP course is evidence that students are equipped to go onto higher education without further specialized language study.
Entry Requirements
Be 18 years old or over.
Latest proof of English proficiency (if applicable).
EAP 1 (Intermediate) concentrates on listening comprehension and speaking skills, reading and writing, and visual numeracy skills which prepares students for further study in the EAP 2 course and may enhance eligibility for entry to vocational college courses which require the equivalent of IELTS 5.5 for entry.
EAP 2 (Upper-intermediate) develops further higher level English language and communication, digital learning and research skills. It is a direct pathway into EAP 3 and may enhance eligibility for higher level vocational college courses which require the equivalent of IELTS 6 for entry.
EAP 3 (Advanced) develops English language proficiency and academic literacy which will enable students to apply their knowledge to a variety of academic contexts and to take responsibility for their progress. Students who successfully complete this course may be eligible to be considered for a place at a higher education institution which requires the equivalent of IELTS 6.5 for entry.
Course Structure
There are 3 levels and each level runs for 12 weeks at 20 hours per week. Students will be comprehensively tested on arrival and placed in the level which is most suitable for their current proficiency.
The course is structured around the following areas:
Input material from Core Text which every student needs to purchase
Macro-skills Development for Test Modules
Analysis of Test Tasks
Written reports
Case studies
| | |
| --- | --- |
| Entry | Exit |
| EAP1 Equivalent to IELTS 5 | Completion of 12 weeks equivalent IELTS 5.5 |
| EAP2 Equivalent to IELTS 5.5 | Completion of 12 weeks equivalent IELTS 6 |
| EAP3 Equivalent to IELTS 6 | Completion of 12 weeks equivalent IELTS 6.5 |
Delivery and Assessments
The course is delivered in face – to – face mode using a range of methodologies which may include:
Classroom-based lessons
Online learning system and exercises
Seminars
Presentations
Projects
Tutorial discussions
Simulated telephone, video or online conferencing
Online discussion or chat
Support mechanisms to maximize learner completion of the course
Each learning outcome in each module is evaluated in assessments such as written assignments, reading and listening comprehension, presentation, role plays reflecting vocational or further study contexts. Continuous assessment is conducted and gathered over a period of time.