Course Description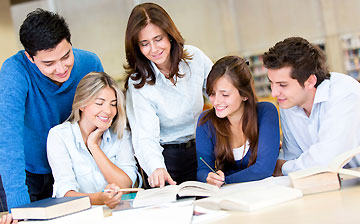 The International English Language Testing System, or IELTS, is a highly recognised global English language qualification. IELTS is perhaps the most renowned and highly respected English language qualification in the entire world, and holding a high band score in IELTS is of great use here in Australia.
Taking IELTS is a fantastic option for meeting English language requirements for university entry here in Australia, as well as satisfying points requirements for immigration purposes. Victory's IELTS course will prepare you for your test, and ensure you score the best you possibly can in the IELTS examination.
Victory's experienced and knowledgeable IELTS teachers will draw on their extensive know-how to teach you the strategies, and language skills, that you will require. Test structure, pacing, skimming and scanning, question type response, writing structure, vocabulary building, and pronunciation practice are all taught and delivered in this comprehensive course.
Entry Requirements
Be aged 18 or over
Have proof of English Language proficiency (if applicable).
Have an Intermediate (IELTS Prep 1) or an Upper-Intermediate (IELTS Prep 2) level of English.
Course Structure
There are two levels:
IELTS Prep 1 (Intermediate)
IELTS Prep 2 (Upper-Intermediate to Advanced)
Both levels are 12 week courses, and entail 20 hours of study each week. Before students commence their course, they will be tested to ascertain which level is more appropriate for them.
Studying this course will involve the following:
Learning the structure and content of the exam, and how to use this knowledge and various test-taking strategies to maximise your band score
Developing your overall listening, reading, writing, and speaking skills so you demonstrate a high degree of proficiency in the English language in your test
Practising mock exams so that you can practise applying your learnings under exam conditions
Delivery and Assessments
The IELTS Preparation courses are run by experienced and professional IELTS teachers through face-to-face learning in a dynamic classroom environment, and delivery may include:
Classroom-based activities and input
Attending mock examinations in a space which mimics the authentic IELTS examination experience
Online learning system exercises
Projects
Zoom input sessions
Chat applications
Assigned paper-based or book-based homework
Educational and cultural excursions
Students will be assessed through regular progress testing. Sometimes this takes the form of doing an actual mock IELTS examination (in full or in part), and at other times involves directly testing the students' language skills or knowledge of the IELTS test.
It is incumbent upon students to also self-assess during the weekly review sessions.
After mock tests (or parts of mock tests), the teacher will comprehensively discuss the test and give students tips and hints on how to improve their score next time. Attendance and class participation also form your ongoing assessment.
Note: Students are given a textbook at their entry-level but are required to purchase a new textbook from the next level onwards.