Course Description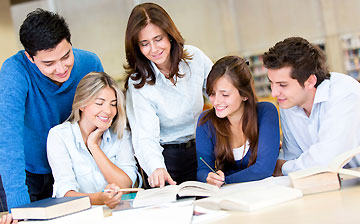 The IELTS test is an internationally recognized tertiary entry English language qualification. A score of 5 on the IELTS test (alongside a range of alternative tests) is a pre-requisite for entry to many vocational courses.
These courses are open to students who have been accepted into vocational courses but who have not yet obtained a pre-requisite English score. Students who have obtained tertiary places in a range of institutions or who are planning to make an application are all welcomed. However, these students must achieve the required level in the IELTS test in order to articulate into their chosen course of study.
No matter what the student's situation or intention, these courses will prepare them well for undertaking the IELTS test with confidence.
The teachers will help to develop the strategies that students need to improve their IELTS score. Students will practice strategies such as predicting skimming and scanning in listening and reading, essay formatting and confidence – building speaking exercises.
Entry Requirements
Be 18 years old or over.
Latest proof of English proficiency (if applicable).
If your major target in studying English is to gain an acceptable result in the IELTS test, for either academic or migration purposes, you need to enroll in the IELTS Preparation Course.  This course is designed to assist you in learning the types of English that will help you to achieve the result you require.
IELTS 1 requires the equivalent of Intermediate for entry and IELTS 2 requires the equivalent of upper intermediate for entry.
Course Structure
There are 2 levels:
IELTS Prep 1( Intermediate)
IELTS Prep 2 (Upper Intermediate  to Advanced)
Each level runs for 12 weeks at 20 hours per week. Students will be comprehensively tested on arrival and placed in the level which is most suitable for their current proficiency. It is possible to do just one or both levels depending on the entry language proficiency level.
The courses are structured around the following areas:
Input Material from Core Text which every student needs to purchase
Macro-skills Development for Test Modules
Analysis of Test Tasks
Examination Practice
Delivery and Assessments
The courses are delivered through classroom face-to-face instruction, individual and group projects, class presentations and discussions and educational/ cultural excursions. Students will be assessed through regular progress testing, teacher assessment and self-assessment through the weekly review sessions. Students will also take practice tests or segments of practice tests and after each test, the teacher will discuss the test, giving them hints on how to improve their score. Overall assessment will be based on attendance, participation, coursework and in-course assessments.