Course Overview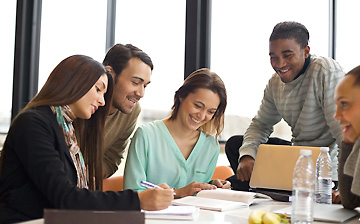 This qualification reflects the role of individuals with substantial experience in a range of settings who are seeking to further develop their skills across a wide range of business functions. This qualification is also suited to the needs of individuals with little or no vocational experience, but who possess sound theoretical business skills and knowledge that they would like to develop in order to create further educational and employment opportunities.
Entry Requirements
Be 18 years old or over.
Students who intend to enrol in this course must prove their satisfactory completion of Australian Year 12 or international equivalent, or a minimum 2 years industry experience in related fields.
Students must have good communication skills. Candidates whose English is not their first language are required to prove their English language skills which is equivalent to at least an upper-intermediate level (IELTS 5.5 equivalent)
Course Structure
Duration: 40 weeks tuition plus 12 weeks term breaks.
Please refer to the unit description on https://training.gov.au/Training/Details/BSB50215
Elective Units
BSBSUS501
Develop workplace policy and procedures for sustainability
BSBHRM501
Manage human resources services
BSBMGT406
Plan and monitor continuous improvement
BSBADM504
Plan and implement administrative system
BSBMKG523
Design and develop an integrated marketing communication plan
BSBADM506
Manage business document design and development
BSBMGT517
Manage operation plan
BSBFIM502
Manage payroll
Pathway
After completing the BSB50215 Diploma of Business, students may articulate into further study of an Advanced Diploma of Business offered by any RTO, or they may have opportunities to continue their studies in Bachelor Degree programs offered by Higher Education providers

Job Outcome
Job roles and titles vary across different industry sectors. Possible job titles relevant to this qualification include:
Administration executive officer
Administration program coordinator
Delivery and Assessments
This program (BSB50215 Diploma of Business) is delivered in a classroom-based environment with face to face delivery. The mode of training is highly practical with a combination of practical projects and tasks with a simulated workplace, tutorials and group activities.