Course Overview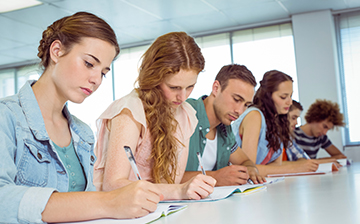 This qualification reflects the varied roles of individuals across different industry sectors who apply a broad range of competencies using some discretion, judgment and relevant theoretical knowledge.
Entry Requirements
Be 18 years old or over.
Students who intend to enrol in this course must prove their satisfactory completion of Australian Year 11 or international equivalent, or a minimum 2 years industry experience in related fields.
Students must have good communication skills. Candidates whose English is not their first language are required to prove their English language skills which is equivalent to an intermediate level (IELTS 5.0).
Course Structure
Duration : 40 weeks tuition plus 12 weeks term breaks.
Please refer to the unit description on https://training.gov.au/Training/Details/BSB30115
Core Units
BSBWHS307
Apply knowledge of WHS laws in the workplace
Elective Units
BSBADM311
Maintain Business Resources
BSBCMM301
Process Customer Complaints
BSBCUS301
Deliver and monitor a service to customers
BSBDIV301
Work effectively with diversity
BSBFLM303
Contribute to effective workplace relationships
BSBINN301
Promote innovation in a team environment
BSBITU302
Create electronic presentation
BSBITU304
Produce Spreadsheets
BSBITU306
Design & Produce Business Documents
BSBWRT301
Write simple documents
BSBWOR301
Organise personal work priorities and developments
Elective units are relevant to the work outcome, local industry requirements and the qualification level.
Pathway
After achieving the BSB30115 Certificate III in Business, students may undertake the BSB40215 Certificate IV in Business.

Job Outcome
Job roles and titles vary across different industry sectors. Possible job titles relevant to this qualification include:
Customer Service Advisor
Data Entry Operator and/or Word Processing Operator
General Clerk and/or Clerical Worker
Payroll Officer
Typist and/or Receptionist
Administration Assistant
Information Desk Clerk and/or Office Junior
Delivery and Assessments
This program (BSB30115 Certificate III in Business) is delivered in a classroom-based environment with face to face delivery. The mode of training is highly practical with a combination of practical projects and tasks with a simulated workplace, tutorials and group activities.