Course Overview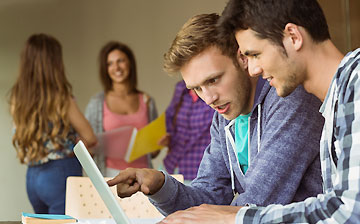 Our Certificate IV in Screen & Media will train students in the areas of 2D digital design, interactive media and animation. You will be trained to function as part of a production team in the role of a 2D digital artist, animator and visual effects designer. In this flexible role you will be able to enter industries such as advertising, graphic design, film and television.
Entry Requirement
Be 18 years old or over.
Students who intend to enrol in this course must prove their successful completion of Certificate III in screen and media or equivalent or prove their satisfactory completion of Australian Year 12 or international equivalent, or have relevant industry experience in screen and media with a minimum of 2 years.
Students must have good communication skills. Candidates whose English is not their first language may be required to prove their English language skills which is equivalent to upper intermediate level (IELTS 5.5).
Knowledge and Skills
Successful candidates will emerge with practical skills as they relate to design, interactive media and animation and knowledge required to function well in various industries. This course has a highly practical focus so essential design skills such as using industry standard software will be well developed. Assessments will primarily take the form of design, interactive media and animation projects which will be conducted in a simulated studio environment.

Job Outcome
This qualification reflects the role of individuals who use basic skills and a broad knowledge base in a wide variety of contexts in the screen, media and entertainment industries. They apply solutions to a defined range of unpredictable problems and analyse and evaluate information from a variety of sources.
The qualification aims to provide candidates with the skills and knowledge required to effectively perform the following job roles:
Digital Artist
Animator
Visual Effects Designer
Video about The course
---
Course structure
The course consists of 4 terms of 10 weeks duration each. Achieve 13 units (3 core units and 10 elective units). Each unit of the study program that we have selected meets the requirements for specialisation in Interactive Media.
Please refer to the unit description on http://training.gov.au/Training/Details/CUA41215
Core Units
BSBSMB301
Investigate micro business opportunities
BSBCRT401
Articulate, present and debate ideas
CUAWHS302
Apply work health and safety practices
Elective Units
CUAPPM407
Create storyboards
BSBDES403
Develop and extend design skills and practice
ICTWEB412
Produce interactive web animation
CUAANM301
Create 2D digital animations
BSBDES402
Interpret and respond to a design brief
CUADIG304
Create visual design components
CUADIG403
Create user interfaces
CUAANM402
Create digital visual effects
CUADIG404
Apply scripting language in authoring
ICTDMT402
Produce interactive animation