Course Overview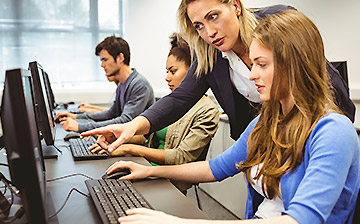 This qualification is designed to reflect the role of individuals working in accounting & seeking professional identification. At this level individuals are expected to apply theoretical and technical skills in a range of situations and to display initiative and judgement in planning activities. They have autonomy in performing complex operations and can be responsible for planning, coordinating and evaluating the work of others within broad but generally well-defined parameters.
Entry Requirement
Be 18 years old or over.
Students who intend to enrol in this course must prove their successful completion of Diploma of Accounting (FNS50215 or FNS50217) or have industry experience in accounting and any relevant financial service, with a minimum of 2 years' experience.
Students must have good communication skills. Candidates whose English is not their first language may be required to prove their English language skills, which is equivalent to upper intermediate level (IELTS 5.5).
Pathway
After completing the FNS60217 Advanced Diploma of Accounting, students may articulate into opportunities to continue their studies in Bachelor's Degree programs offered by Australian Universities.

Job Outcome
This qualification aims to provide candidates with the skills and knowledge required to effectively perform the following job roles:
Accountant
Financial Accounting Officer
Costing Project Manager
Business Analyst
Account Manager
Delivery and Assessments
This program (FNS60217 Advanced Diploma of Accounting) is delivered in an institution-based environment with face to face delivery. The mode of training is highly practical with a combination of practical projects, practical tasks with simulation workplace, tutorials, group activities and theory-based documents.

Course Structure
Duration : 40 weeks tuition plus 12 weeks term breaks.
Please refer to the unit description on https://training.gov.au/Training/Details/FNS60217
Core Units
FNSACC624
Monitor corporate governance activities
FNSINC601
Apply economic principles to work in the financial services industry
FNSINC602
Interpret and use financial statistics and tools
Elective Units
FNSACC601
Prepare and administer tax documentation for legal entities
FNSACC608
Evaluate an organisation's financial performance
FNSACC609
Evaluate financial risk
FNSACC610
Develop and implement financial strategies
FNSACC613
Prepare and analyse management accounting information
FNSACC602
Audit and report on financial systems and records
FNSACC603
Implement tax plans and evaluate tax compliance
FNSACC605
Implement organisational improvement programs
FNSORG602
Develop and manage financial systems
FNSACC606
Conduct internal audit
BSBFIM601
Manage finances